80 W Hot Melt Glue Gun Blue case 110V is easy and safe for application. Glue gun are made in different specifications to be in accordance with large and small sized of glue sticks.
It is grouped into general purpose, DIY and long application purpose, and industrial purpose.
According to customer's production/manufacture condition, we can provide professional advice for all kinds of automatic/semi-automatic glue applying machines as well as peripheral and glue related equipment.
80 W Hot Melt Glue Gun Blue case 110V Specification:
| | | | |
| --- | --- | --- | --- |
| Input: | 110-250V, AC, 80 W | Flow rate of glue: | 12-16 g/min |
| Diameter of glue stick: | 10.8~11.5 mm | Length of glue stick: | 70~300 mm |
| Application temperature: | 130~290℃ | Product weight: | 283 g |
| Nozzel diameter: | 1.0~2.0 mm | Pre-heating time: | 3-5 mins |
| Product Size: | 19.3x16.6 cm | Certification: | CE,GS,ROHS,KC,SAA,ISO |
| Inner box: | 10 pcs | Outer ctn: | 40 pcs |
| Inner box size: | 35.5x31x20 cm | Outer ctn size: | 64x42x37 cm |
| G.W.: | 16.1 kgs | N.W.: | 11.3 kgs |
80 W Hot Melt Glue Gun Blue case 110V Show: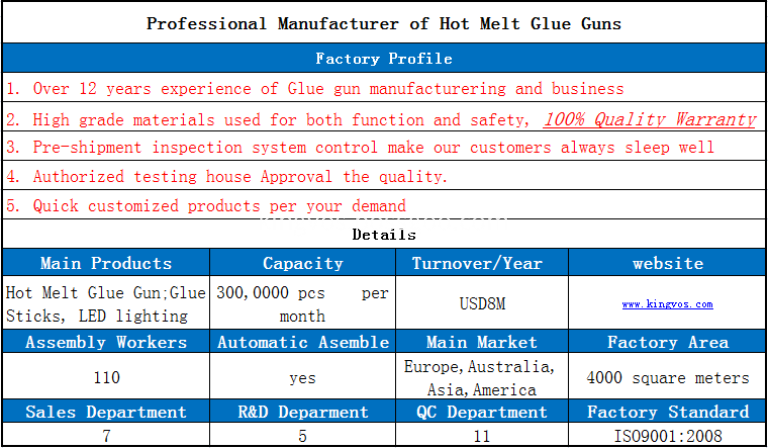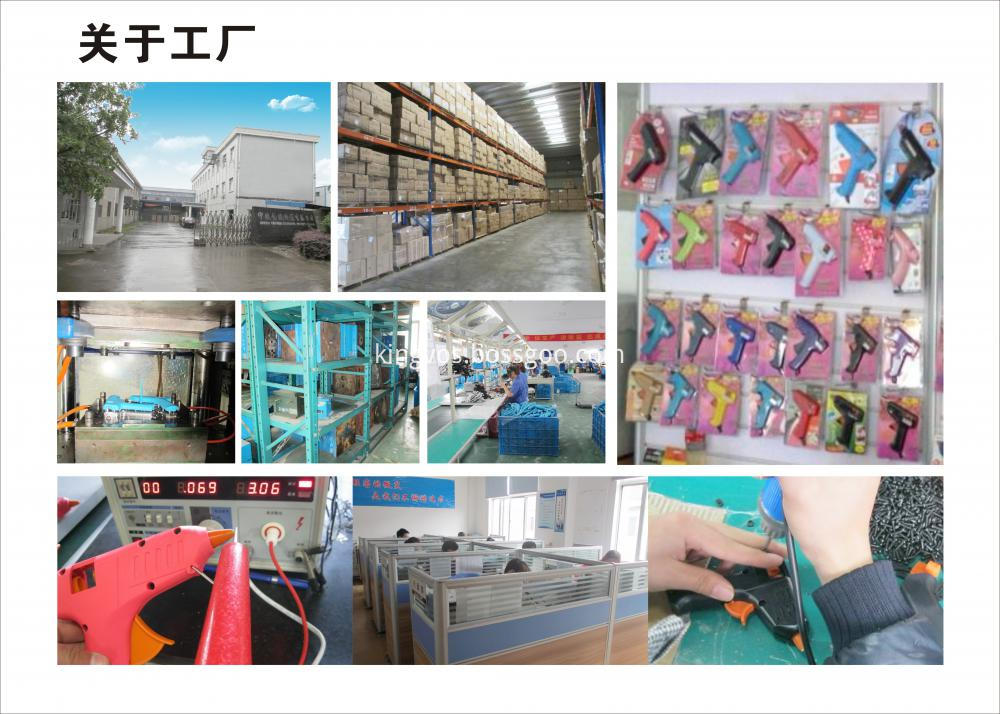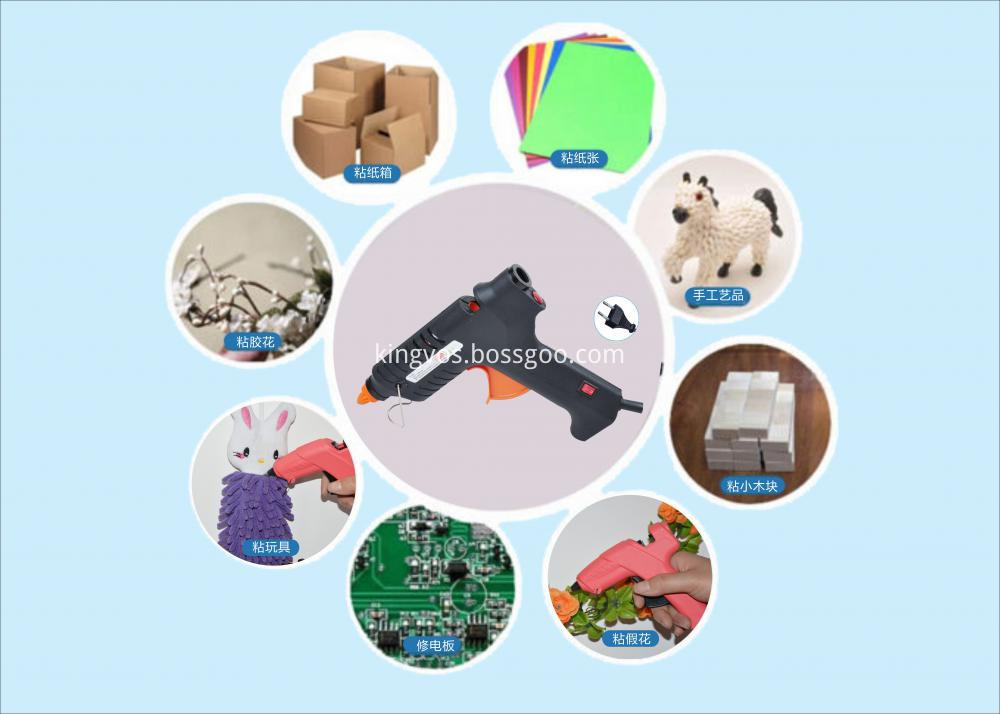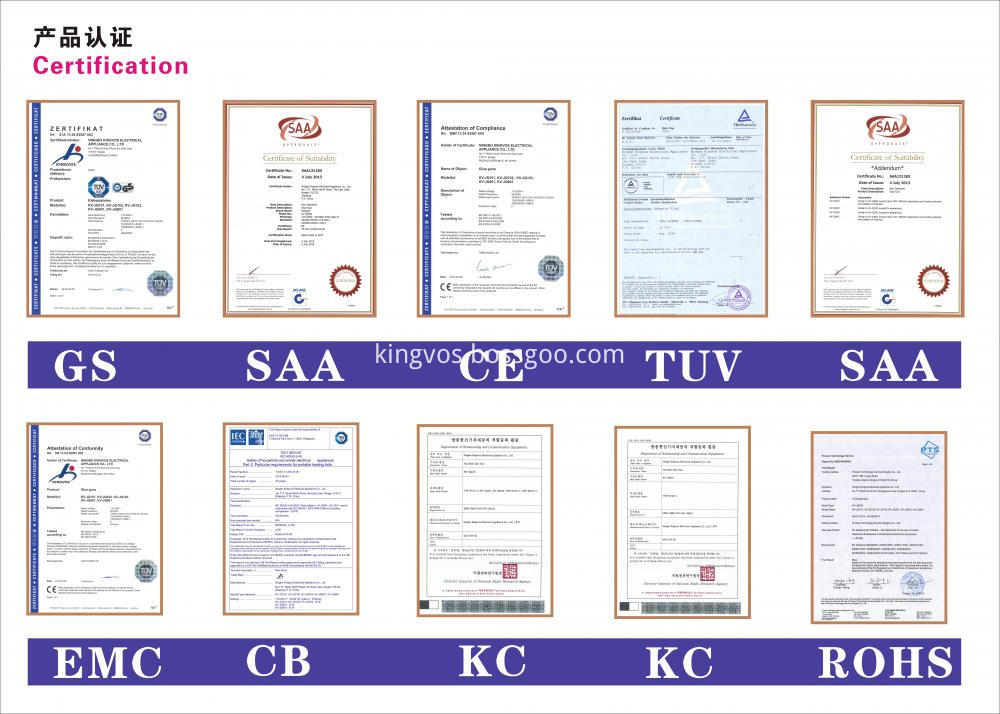 General Safety Information:
1. Check if the plug cord was in good condition, and if there is stand before plug into the electrical outlet ; Check if the used glue gun has glue flow through back of the tunnel;
2. wait 5-10 minutes to allow glue to soften, stand up the glue gun on the table when not in use;
3. Touch nozzle to any clean, dry surface you wish to bond, to avoid any impurity stop the nozzle;
4. If the glue could not flow from the nozzle when the glue gun start to work, check if the glue gun are heating;
If glue gun can not be heated, there are following reasons:
1 Plug cord into electrical outlet not properly;
2 Glue gun has been destroyed owing to inner cord short circuit;
If glue gun can be heated, there are following reasons: Nozzle has been stopped by any impurity, ask careerman to manage it.
5. Do not use the glue gun under moist climate, humidity will affect insulation and cause electric shock;
6. Do not touch the nozzle or melted glue;
7. Do not remove out the melted glue stick from the tunnel back side, it will damaged the glue gun as well as scalding person hands.
8. Do not to disassemble or assemble any glue gun accessories freely, it will cause glue gun do not work properly;
9. Keep out of reach of children and stocked it beyond any of Children palpable side;
10. Only used for melting glue stick, no other usage;
11. When in use, there are any glue flow back from tunnel, stop using immediately, wait for careerman clean the glue;
12. Close the power if the glue gun not in use after 15 minutes;